Chester Estate Planning Lawyer
You worked hard to earn your money, saved to purchase a family home, and took care of the furniture, jewelry, and art that make up your Chester, SC estate. You want to be sure that your estate and assets are protected and divided well at the end of your life. Whether you want to donate funds to an animal rescue where you got your pets or make sure that your grandchildren have money to help fund their future, the right estate planning can ensure all your wishes are carried out.
South Carolina offers many estate planning options, including wills and trusts, that allow you to achieve those goals. An estate planning attorney from Mack & Mack Attorneys can help you understand your estate planning options and create the right plan for you.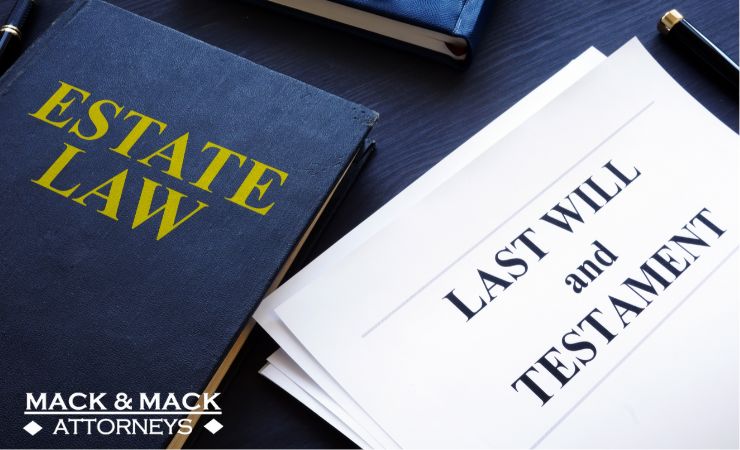 The Basics of Estate Planning
Estate planning is often seen as a tool for wealthy families who have several homes, own assets worth millions of dollars, or control large businesses. While wealthy people can certainly benefit from having an estate plan in place, it is an effective tool available for anyone, regardless of the size of their estate. In reality, everyone has an estate that includes their jewelry, investments, insurance plans, and more.  You should have a plan in place for how these things will be divided at the end of your life.
Your estate may include things like: 
Vintage cars
A family vacation home
Savings accounts
Furniture in your home
Jewelry
Investments
Life insurance
Collectibles
Anything that you own is a part of your estate. You should be able to have control over how these assets are distributed. An estate plan can ensure you are in control — whether you want to be sure that your heirloom jewelry is taken care of or that your grandchildren have a nest egg. When you are planning for the end of your life, it can be invaluable to work with an experienced estate planning attorney who understands your needs.
The Difference Between Wills and Trusts
If you want to create a will in South Carolina, you can either write a standard will or create a living will. This can ensure you still have power over your estate. This is important because not everyone wants the exact same thing at the end of their life. If you share a love for collecting antiques with your grandson, you may want to ensure that he receives your antiques when you pass, so you can create a trust to hold them until he is of age. If you have several children and want to make sure they each get an equal share of your estate, a will can outline your wishes.
Standard Will
When you write and finalize your will, it gives you the opportunity to:
Decide who will care for your minor children.
Choose a person to be the executor of your will.
Name the individuals or organizations that will receive your assets and property.
To be valid, a will must be:
Created by someone of sound mind who is over the age of 18
Written or typed on paper
Signed by the writer and two witnesses
Living Will
You may encounter a situation where you are unable to make significant medical decisions for yourself following an injury, like a major car accident or an illness. If you want to ensure that you still have some control over what happens to you in these circumstances, you can create a living will. This document outlines how you would want medical decisions to be made in the event that you are incapacitated.
Trusts
Some people have possessions, such as antique cars or business holdings, that are very important to them in their life, and they want to ensure that these things are protected after their death. While a will can help them dictate how certain assets will be divided following their death, that may not be enough protection. If you create a trust, it means that you are establishing an entirely separate legal entity that will own and control any assets placed into it until they are given to a beneficiary.
You will retitle any assets that you wish to place in the trust, which means that you give up ownership of them. A trustee will:
Watch over your trust.
Make sure that the assets are properly cared for.
Pass them to the beneficiary at the correct time.
A trust will offer additional protection because it does not have to go through probate following your death and, in some cases, is protected from debt collectors. For additional control over how property, assets, and important possessions are divided, you can establish a revocable or irrevocable trust. 
Revocable Trust: As the name suggests, assets given to your beneficiaries can be altered based on certain criteria. If you want to be sure that your grandchildren have money to pay for college but do not want to lose access to your assets, a revocable trust allows you to move assets in and out of the trust while you are still living.
Irrevocable Trust: As opposed to a revocable trust, the beneficiary is not beholden to any criteria. Considering the previous example, if you want to leave your grandchildren money to go to college, but they prefer to invest it, there is nothing that would prevent them from doing so.
If you do not have a plan for how your assets will be divided among loved ones, it could likely cause conflict. At worst, your assets could be lost entirely to an estate sale. The proper estate plan will give your loved ones guidance for how to settle your affairs. If you want to keep your assets and property while you are alive, a trust can ensure your estate will not go through probate after your death.
How Probate Impacts an Estate Plan
Probate court is the legal system that determines how the estate of a deceased individual will be divided. Those who create a trust in South Carolina, either revocable or irrevocable, will be able to avoid the probate process. If there is no trust in place, then your estate will have to go through probate, but it may work differently depending on your circumstances. 
Intestate Succession: When someone passes away and does not have a will in place, they die "intestate." This means South Carolina's intestacy laws will determine who inherits the property. A representative from the courts will be assigned to divide everything according to these intestate succession laws. The people who receive your assets and how much they will receive will be determined based on your living relatives, such as parents, children, or siblings.
Probate With a Will: The estate of an individual who passes with a valid will still has to be completed through probate. The executor of their will has to open the will in probate, divide the estate how the deceased wanted, and close the estate once everything is taken care of.
Trust Mack & Mack Attorneys for Your Estate Planning Needs
It can be daunting to plan for the end of your life, but you also want to protect family heirlooms such as your engagement ring, set your children up for success with money or stocks, and be confident that your loved ones are cared for when you are gone. An experienced Chester estate planning attorney from Mack & Mack Attorneys is ready to help. Contact our office today to get started.