Chester Commercial Real Estate Lawyer
Buying and selling commercial real estate is a highly rewarding investment for individuals and businesses. However, these transactions involve complicated laws and complex processes. Compliance with the myriad of nuances can be a much larger undertaking than what is involved in mere residential property buying and selling.
By working with a qualified Chester commercial real estate attorney, you acquire a vital component to achieving your investment goals and protecting your vested interests. Partner with a skilled and knowledgeable lawyer as soon as possible if you are considering buying, selling, or leasing commercial real estate.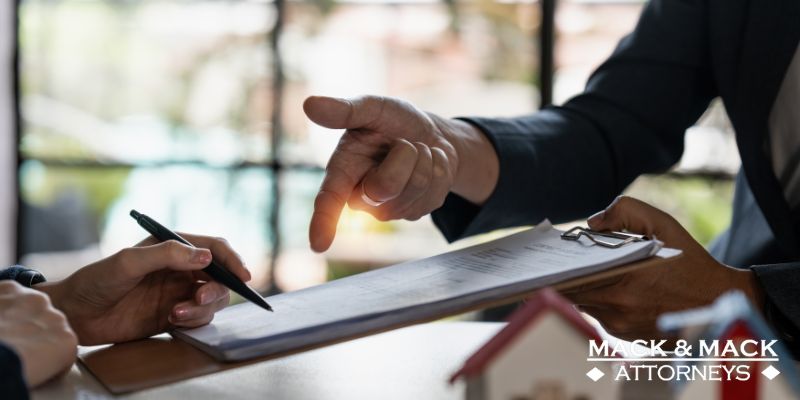 Commercial Real Estate Consultation in Chester, SC
Commercial real estate is a uniquely involved area of business law that requires the skills of a qualified attorney. Contact one of our team to learn more about what makes these transactions unique. The team at Mack & Mack Attorneys has been providing law consulting, estate planning, and real estate administration to local business owners in Chester for well over half a decade.
Our lawyers believe in a consulting approach, guiding and educating our clients on the processes involved in completing commercial real estate transactions. Our office has successfully handled countless real estate deals that were highly complex and made practical use of our decades of combined knowledge of South Carolina real estate law.
What Makes Commercial Real Estate Unique?
Generally, several considerations make up the differences between commercial and residential real estate. While residential real estate focuses on properties used for living purposes, commercial real estate refers to properties used for business purposes primarily focused on generating income. As a result, commercial real estate generally includes food service and industrial properties, office and educational buildings, retail spaces, medical facilities, and residential complexes such as apartments, condos, and townhouses that are multi-family.
Commercial real estate is further marked by its unique characteristics:
Size and regulations. Commercial properties are generally larger and more complex, encompassing multiple levels and units. Commercial real estate is also subject to specific zoning laws that regulate how it can and can't be used, developed, or operated for the purposes of the business.
Transactions and tax considerations. Transactions involving commercial real estate are more complex and typically involve larger sums of money when compared with other types of real estate. This requires detailed contracts, negotiations, and adherence to particular regulatory processes. Transactions involving commercial real estate can additionally have substantial tax implications relating to property taxes, capital gains taxes, and potential tax benefits related to unique deductions.
There are specific legal considerations involved in handling commercial real estate transactions. These include unique regulations involving negotiating contracts, handling title disputes, and resolving zoning issues.
Lease and financing. Terms and provisions for commercial leases are extended and complex, often including clauses that relate to rent escalations, tenant improvements, maintenance responsibility, and options for renewal. Business properties also carry higher risks, leading to stricter lending requirements and larger down payments. This makes financing commercial properties more challenging.
What Can a Commercial Real Estate Attorney Help With?
The added complexities that complicate buying and selling commercial property make partnering with an experienced and knowledgeable commercial real estate attorney essential. A skilled attorney can provide much-needed help in various transactions, such as:
Reviewing and drafting agreements. Real estate deals cannot be completed without proper contracts. Helping buyers make sure any paperwork agreements are set up during the purchasing process is one of the most common tasks performed by real estate lawyers. However, drafting appropriate contracts accurately and effectively requires proper skill and knowledge of commercial real estate law.
Handling disputes and litigation. Commercial real estate transactions are composed of many processes, each of which must be appropriately documented and paid for. Many different disputes can result, requiring an attorney to help resolve them. These include zoning disputes, breach of contracts, construction disputes, and disputes between partnerships, shareholders, or landlords and tenants.
Taking care of closing. The closing process finishes any commercial real estate transaction. A skilled real estate lawyer can review all paperwork related to the closing, such as deeds, bills of sale, mortgage documents, closing statements, affidavits, and disclosures, to ensure all terms and conditions are properly finalized by all stakeholders.
Commercial real estate transactions are complex processes that require the knowledge and skill of a real estate attorney experienced in Chester real estate law. To make sure you stay compliant throughout the entire real estate process, work with a qualified attorney like those at Mack & Mack Attorneys.
Is a Commercial Real Estate Attorney Required for Closing?
Most states strongly recommend the involvement of a real estate attorney but do not require it by state law. However, South Carolina is among the few that require the presence of an attorney in person at the closing of a commercial real estate sale. You cannot buy or sell a commercial property without a lawyer present. In fact, the following steps must be completed by a real estate attorney during the sale of any property:
Title searches. The attorney will ensure that all liens or mortgages tied to a property or a piece of land are fulfilled by previous owners.
Loan paperwork. The attorney will complete any required loan paperwork for purchasing the property.
Both the buyer's and seller's attorneys will exchange all documents, explained in detail, involved in the sale to complete the transaction. The attorney will then make documents for the sale, tying the land to the new owners publically after closing.
Payment transactions. The attorney will distribute payments for the sale and divide any documents and records of transactions in the sale between both parties.
Securing a Qualified Attorney for Your Commercial Real Estate Transaction
Don't let a lack of commercial real estate law impact your contracts and cost your business considerably. Work with a qualified member of our team at Mack & Mack Attorneys on your pending commercial ventures today. Our lawyers can save your business time, money, and resources by providing comprehensive compliance and completion of all related documentation, contracts, negotiations, litigation, and transaction closings. Contact our office today to learn more.