Chester Residential Real Estate Lawyer
Due to the complicated and, at times, confusing real estate law and state legislative codes associated with residential real estate transactions, it is common for potential home buyers and sellers to involve residential real estate attorneys. If you want to avoid common pitfalls that can arise from buying and selling a home in Chester, SC, it is highly recommended you partner with an experienced Chester residential real estate lawyer.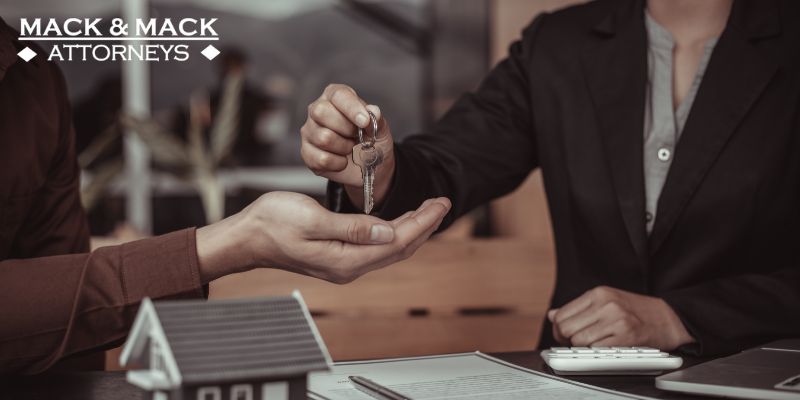 Residential Real Estate Representation in Chester, SC
Mack & Mack Attorneys has proudly provided comprehensive legal services for real estate transactions in Chester and the surrounding areas for well over half a century. With a strong background in residential and commercial real estate and estate planning, our team can provide the legal counsel and advocacy you deserve to help you achieve the most favorable outcome in any legal matter and achieve your goals. If you are looking to buy or sell a home in Chester, let our team help your family today.
How Does Residential Real Estate Differ From Business Real Estate?
Residential real estate refers to any property that is used for living purposes, primarily for use as an individual or family home. Residential properties can include homes, apartments, and condos. Unlike commercial real estate, residential real estate is primarily intended to provide housing. Though you can generate income with residential real estate through rentals or vacation home use, this is not its primary purpose. Because of the difference in the two types of real estate, there are different market factors, financing options, legal considerations, and methods of valuation that must be considered with residential real estate.
What Does a Residential Real Estate Lawyer Do?
A residential real estate lawyer is licensed to handle a wide range of legal issues related to residential property. They serve to provide legal guidance and assistance in residential real estate transactions, ensuring that each transaction is compliant with all real estate laws and protects their client's interests. They accomplish this by:
Reviewing and drafting contracts. Your lawyer will ensure all drafted or reviewed contracts related to the purchase or sale of residential properties protect your interests and are fair in their terms and conditions.
Searching titles. Your lawyer will perform title searches in order to ensure that any property being bought or sold is clear of any liens or other encumbrances that may potentially affect ownership of the property.
Your lawyer will ensure that you receive the most favorable deal possible by negotiating the terms of the sale and its purchase price on your behalf.
Conducting closings. Your lawyer will work closely with realtors and financial brokers to oversee the closing process, ensuring that the necessary paperwork is prepared properly and is compliant with all state guidelines. This includes ensuring that the transaction is legally binding and that all funds are transferred properly.
Resolving disputes. If necessary, your lawyer will represent you in any required mediation or litigation that arises in the event of a dispute between parties involving a residential real estate transaction. They can negotiate settlements and provide legal guidance.
Handling zoning and land use issues. Your real estate lawyer can obtain zoning approvals, resolve zoning disputes, and ensure the property meets all land-use regulations, such as being appropriately zoned for its intended use.
An experienced and knowledgeable Chester residential real estate attorney can protect your rights and interests, review important documentation, and resolve arising disputes. By reviewing mortgage agreements, loan documents, and other finance-related paperwork, your real estate lawyer can ensure you understand all terms and conditions related to your pending contracts.
How Can a Lawyer Assist With Estate Tax Planning?
In addition to the other benefits, your residential real estate attorney can offer tax assessment benefits. Your attorney can provide guidance and structure all transactions to achieve optimal tax results. When it comes to estate tax planning, your lawyer can:
Provide tax planning advice
Recommend appropriate entity structures
Guide you through tax-deferred exchanges
Identify tax incentives and programs
Ensure compliance with applicable tax laws and regulations
Do I Need a Real Estate Lawyer to Buy a House?
While there is no legal requirement for hiring a real estate lawyer to buy a house, doing so is highly recommended. Unlike typical retail transactions, buying a home involves considerably more than merely exchanging funds to receive your purchase. Buying and selling residential property are complicated legal transactions requiring strict adherence to state regulations. Attempting to complete the necessary paperwork yourself is an extremely time-consuming process. Without an attorney, you risk improperly filing various permits and financial documents, potentially costing you the sale.
By partnering with a knowledgeable and skilled real estate lawyer, you can get step-by-step guidance throughout the process of researching, reviewing, drafting, negotiating, disputing, and closing on your home. Getting legal counsel through an experienced real estate attorney can protect your interests and ultimately save you money.
Can I Sell a House While It's Still in Probate?
In South Carolina, probate law allows a house to be sold while it's still in the probate process. You will sell the property in the same manner as traditional home sales. However, a probate property adds additional layers and considerations that can complicate the process. For example, probate expenses, estate debts, and insurance fees are typically deducted from the sale of the probate property before the money can be divided among the heirs.
If you are looking to sell a property that is in probate, partner with a Chester residential real estate agent to ensure you appropriately complete all documentation and transactions and follow necessary estate law regulations.
Hiring an Experienced Chester Residential Real Estate Attorney
For reliable and comprehensive legal services covering real estate transactions in Chester, contact a member of our team at Mack & Mack Attorneys. As an established law firm with more than a half-century of local experience helping families and residents throughout South Carolina, our lawyers understand the ever-changing laws and regulations associated with buying and selling real estate and are eager to provide you with the appropriate counsel. Contact our office today to learn more.